Quitter.
Ooooh… it's such an ugly word, isn't it? Who likes to be called a quitter? It makes you feel unworthy… like you're just not good enough, right?
How often has the fear of being called a 'quitter' gotten you stuck in a rut? Is it the reason you won't frog that knitting project that you know just isn't going to work?
I've got some good news: sometimes, it's okay to quit. I'll tell you why…
Let me tell you a story…
I took ice-skating lessons from from 4 years old until 13 years old. Money was tight, and by the time I was 13, I was using both birthday and Christmas presents (from multiple family members) to pay for my lessons.
I was good, but I was also a realist. At the age when professional skaters begin national competition (with the assistance of private coaches), I was still learning to spin at the public rink. I didn't have the resources to become a professional, and I was as good of a skater as I would ever need to be.
So, I stopped taking lessons.
My mom called me "a quitter".
Ouch.
What society tells us about quitting
My mom wasn't (at least I'd like to think) being mean. She was parroting the message that seems pervasive in our society. You've heard it all before:
"Quitters never win and winners never quit." – Vince Lombardi
"Pain is temporary. Quitting lasts forever." – Lance Armstrong
"Americans never quit." – Douglas MacArthur
These are actually good quotes. When you're an athlete in a competition (or a soldier in war), you have a mission, and sometimes you need a pep-talk. Keep at it! Don't quit! Not a bad message, really.
What people forget is that these quotes were never intended as lessons about how to live life!
The zen of quitting
Now that I'm an adult, I know that my mom was wrong. I wasn't a quitter.
There, I said it. If you make a move that improves your life… no one has the right to call you a 'quitter'!
Should you persist in rescuing cat toys from your burning house? No way! Should you spend 100 more hours knitting a shawl that's driving you batty… and you know you're not even going to like when it's done? HECK NO!
Why are we talking about quitting?
Uhhh… it's because I quit working on something this week. At first, I felt bad about it. But now, I don't! You see, I spent a fair amount of time and energy on it, and it wasn't working. So I stopped.
You know that today is Craft School Saturday, right? The day of the week where I share about my latest crafting adventure?
So, I had it all lined up… I was going to cut glass: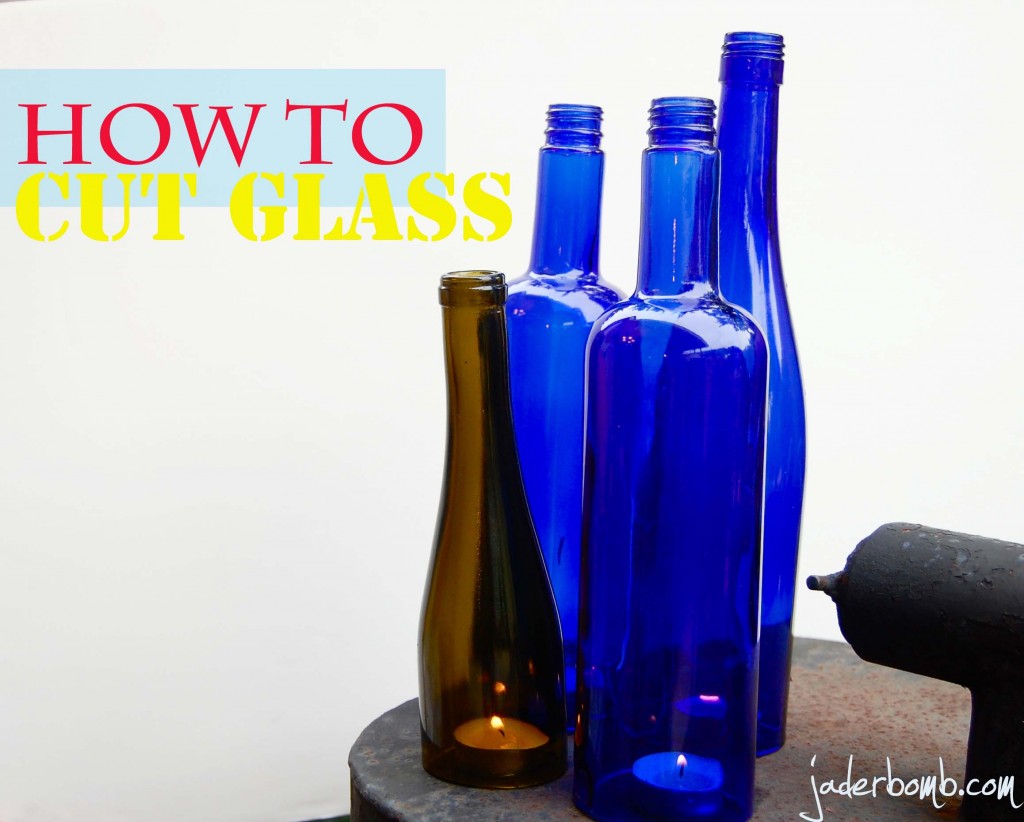 I found this fabulous tutorial on cutting glass using only basic household supplies: nail polish remover, ice water and a match. I was excited.
I gathered my supplies, and I tried for a really long time…
I tried over two separate days, and even tweeted the blog author (Jaderbomb, who's actually a real sweetie and replied with lots of helpful comments) for assistance. I just couldn't get it to work!
I was fretting. I didn't have a back-up craft planned… and I kept thinking, "What are my readers going to think if I fail?"
And then it hit me. It's okay to fail. It's okay to quit something that isn't working.
How do you know when it's okay to quit?
On the topic of quitting, this is the trickiest question. Sometimes, you need to pull on your big-girl pants and persist even if you're not happy (think: cleaning up a big mess from your dog or helping your child through their homework). Other times, persisting just means you're wasting your time.
When you're thinking of quitting, ask yourself these questions:
Will the result (if I persist) be valuable and worthwhile?
Will working on this process teach me valuable skills?
Can I find a part of this process that makes me happy?
If the answer is 'yes', these are signs it might be worth continuing.
What if you answer no? Here's a few more questions:
When this is done, will I be reminded of the painful process?
Are there other things, equally worthwhile, that I could be doing instead?
Will I be much happier if I quit?
Answering 'yes' to these last three questions is a signal that you should give yourself permission to quit. Life's too short, right?
As for my ice-skating, I liked doing it, but there weren't many benefits from continuing my lessons. I could still visit the rink, but by quitting, I saved money and had time to work on different skills (like crocheting!).
And my glass cutting… it sounded really fun! But after a significant amount of time, I wasn't getting anywhere. Was I really going to use these cut glasses? No. I was just doing it for fun. So, I decided to stop before I got frustrated.
Quitting isn't bad… it can be healthy.
Is there anything you should quit?
Tell me… can you make your life better by quitting something that's making you unhappy?