Most of us have a couple of knitting or crochet Works-in-Progress going on at one time. For today's Tip Tuesday blog post, I've gathered ideas about different ways to store in-progress works. Store them neatly, and you'll avoid the perils losing your hook or spare yarn associated with the project!
I gathered ideas by asking my twitter friends how they store WIPs. They all agreed… storing WIPs needn't be expensive, but the storage has to keep the project together and tidy.
Questions to ask yourself before selecting a storage mechanism
Where do you crochet/knit? If you store and work on your WIPs in the living room, then portability might not be very important. If you tend to carry a few projects around in your purse, then you'll need to make sure your method is travel-hardy!
What's important for you to keep on hand? Some stitchers keep only the current work stored. Others like to gather up all of the yarn they'll need for the project, plus that extra needle. Knowing how much you like to store will help you determine the kind of storage you'll need.
What size are the projects you work on? If you love making afghans, you'll need a larger tote or basket. If lacey shawls are your fave project, then a smaller bag will do. Most knitters/crocheters need a variety!
Do you need any extra accoutrements? In this post, I'm showing off different bag/holder ideas, but storage doesn't end there! Think about if you need any extra tools for storing. For example, if you want to carry around a pair of socks on double points, you'll probably also want to invest in some point protectors or a DP tube so that your socks don't fall off of your needles while in your bag.
Storage Options
Ziplock bags
The most popular way of storing WIPs was hands-down the Ziplock bag. They come in various sizes (try the gallon size for projects like scarves, quart size for socks and mittens), are inexpensive and see-through. Since they're transparent, you can instantly see what project is inside (a must when you start to gather WIPs). As an added bonus, you can either write on the bag itself, or stick a note inside that reminds you of crucial project info.
Cloth tote/ Reusable grocery bags
Many of us have reusable grocery bags in our home. These make great storage bags.


These bags often have handles, which makes them easy to carry around. They're also suitable for larger projects because of their size. Lululemon bags (pictured above) come along with any purchase you make, and have a snap at the opening that's great for keeping projects inside.
Plastic shoeboxes
If you aren't interested in portability, then plastic shoeboxes are a great storage idea. They stack (meaning they'll fit nicely in a corner of your room) and they're often transparent.


For your larger projects, you can grab plastic boxes in larger sizes that are still stackable and tidy.
Your yarn store's bag
You're already buying the yarn… why not use the bag as a project bag?


Many yarn stores actually keep future-use in mind when ordering their bags… so make use of it!
Fancy project bags
I, of course, advocate re-using bags and making do with what you have. But, every once in a while, you need to get yourself something nice… so why not make it a lovely project bag?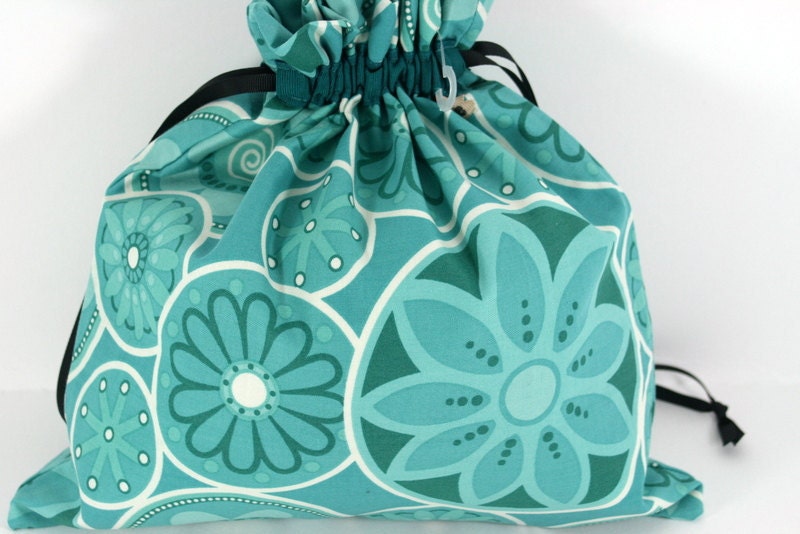 You can purchase project bags in every shape, size and fabric! Check your LYS (they're bound to carry a few styles) or have a look around Etsy (search for 'project bag'). Erin Lane stocks a large selection of project bags- including the adorable drawstring bag pictured. I also love the square zippered bags from JessaLu. Have a look around… you'll probably want to treat yourself to one!
How do you store your WIPs?
Please share! I'm always on the lookout for new ideas!